One of the many gastronomic delights of Thailand are the fruit stalls. They are ubiquitous and cheap. The vendors sell a wide variety of fruit, usually pineapple, melons, mangos (which tend to be too unripe for our western tastes), and coconut.
The fruit are peeled, chopped into bite-sizes, and served in a clear plastic bag with a wooden skewer. Occasionally the vendor would also automatically include a small raisin-sized bag of a mysterious powder, which turned out to be prik glua, a fruit dip of salt, sugar and chili flakes. I must admit to developing a taste for it and it seriously increases your falang street credibility if you ask for it at the stall.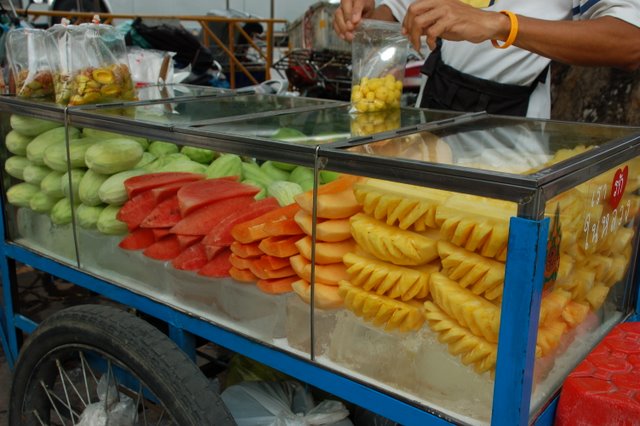 The recipe is very simple, equal volume parts of salt, sugar, and chili flakes. It might be a bit too hot for western tastes but the proportions correspond to what I tasted in Thailand.
Ingredients
1 tbsp salt

1 tbsp sugar

1 tbsp ground red chili flakes
Directions
mix
Notes
I find it goes particularly well with pineapple.